ABOUT PROSTAFF USA
The ProStaff USA team has been in the staffing business for 20 years. We have provided staffing to our clients 24 hours a day, 7 days a week, 365 days a year.
We provide orientation and training prior to sending workers to a job site so you get the best, most professional help possible.  Our workers are trained in safety procedures prior to being assigned to you.
No job is too big or to small and your satisfaction is guaranteed.  Our mission is to provide you with trained, quality workers catered to fit your needs.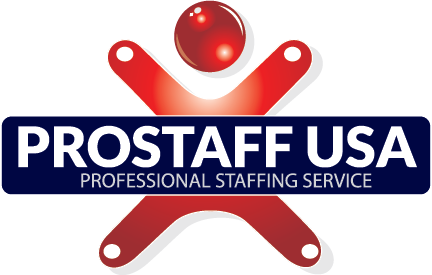 REQUEST A QUOTE
Let us know how we can help staff your business and we will get back to you as soon as possible.
DRIVERS
Drive company vehicles to pick or drop employees. Deliver important documents to required destinations. Ensure that all deliveries have been signed and delivered to the correct recipient
YARD INSPECTORS
Prepare vehicles for the auction by ensuring they have detailed condition reports done, license plates removed and recorded, shrink-wrapping if necessary plus pictures taken.
STAGERS
Organize event to look professional and attract buyers.
DOCK WORKERS
Place pallets onto trailers in order for them to be transported to the required locations.
CAR DETAILERS
Wash the exterior and interior of a vehicle according to the customer's wishes.
JANITORIAL WORKERS
Responsible for cleaning buildings, removing debris, and keeping areas neat and tidy. Vacuums and buffs floors, shampoos carpets, empties trash receptacles, and replace lining of trash cans.
GENERAL LABOR
Construction laborers perform a variety of tasks at all kinds of construction sites. Tasks that require little skill can be learned quickly; other tasks require considerable experience or training.
PRODUCTION LINE WORKERS
Job consists of working on a manufacturing assembly line. Job could consist of making changes by hand or by running machinery equipment. Will receive objects or parts on conveyer belt, be responsible for your portion of the job, and then pass materials down conveyer belt to next line worker.
HI-LO DRIVERS
Load and unload materials on and off pallets. Drive forklift from one destination to another to ensure delivery of material and equipment.
AND MANY MORE
And many more blue collar positions
PROPOSAL & PRICING
ProStaff USA will provide superior service, training, and follow up skills necessary to ensure a long lasting partnership, benefiting both companies. Our rates will ensure that we are able to accommodate your company's needs both now and in the near future.
COMPANY OVERVIEW
ProStaff USA is a first-class staffing agency, specializing in providing a skilled and versatile labor force. Since 2010, ProStaff has collaborated with numerous clients across Southeastern Michigan to provide various workforce solutions.
NOT SURE WHICH SERVICE FITS
YOUR BUSINESS NEEDS?
THE PROSTAFF ADVANTAGE
At PROSTAFF, we take every project personally. We work with you, as a close partner, to ensure that each job is performed up to your company's standards and expectations.
We thoroughly investigate the background information of all candidates to ensure that we supply our clients with the most proficient staff possible.
Proof of an exemplary driving record is necessary for any positions that require the handling of vehicles or machinery.
Candidates are given a comprehensive orientation by one of our skilled trainers which clearly and thoroughly outlines guidelines, policies, and procedures for the position in which they are applying for. Unlike other staffing companies, PROSTAFF will not send unqualified candidates.
Our managers actively continue to train staff so they are able to adapt as our client's needs do.
We can fulfill small, large, and one-time staffing requests.
We are capable of cross training our staff to provide you additional flexibility and efficiency.